Barack Obama and Adrian Fenty get their Ben's Chili Bowl fix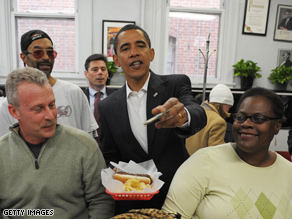 It definitely looks like Barack Obama is going through all of the necessary motions in becoming a full-time DC resident. On Saturday, the President-elect, along with DC Mayor Adrian Fenty made a surprise stop at Ben's Chili bowl, a famous DC restaurant (located at 1213 U Street, NW).
From CNN's Political Ticker:
WASHINGTON (CNN) –- Obama popped in for lunch Saturday at Ben's Chili Bowl, the 50-year-old Washington fast food institution famous for its "half-smokes" –- sausages smothered in spicy homemade chili sauce, mustard, and onions.

The visit came as a complete surprise to Sonya Ali, one of the owners of the family-run business.
And of course, there is also some video:
[youtube]http://www.youtube.com/watch?v=4vQ7wQ80Aik[/youtube]